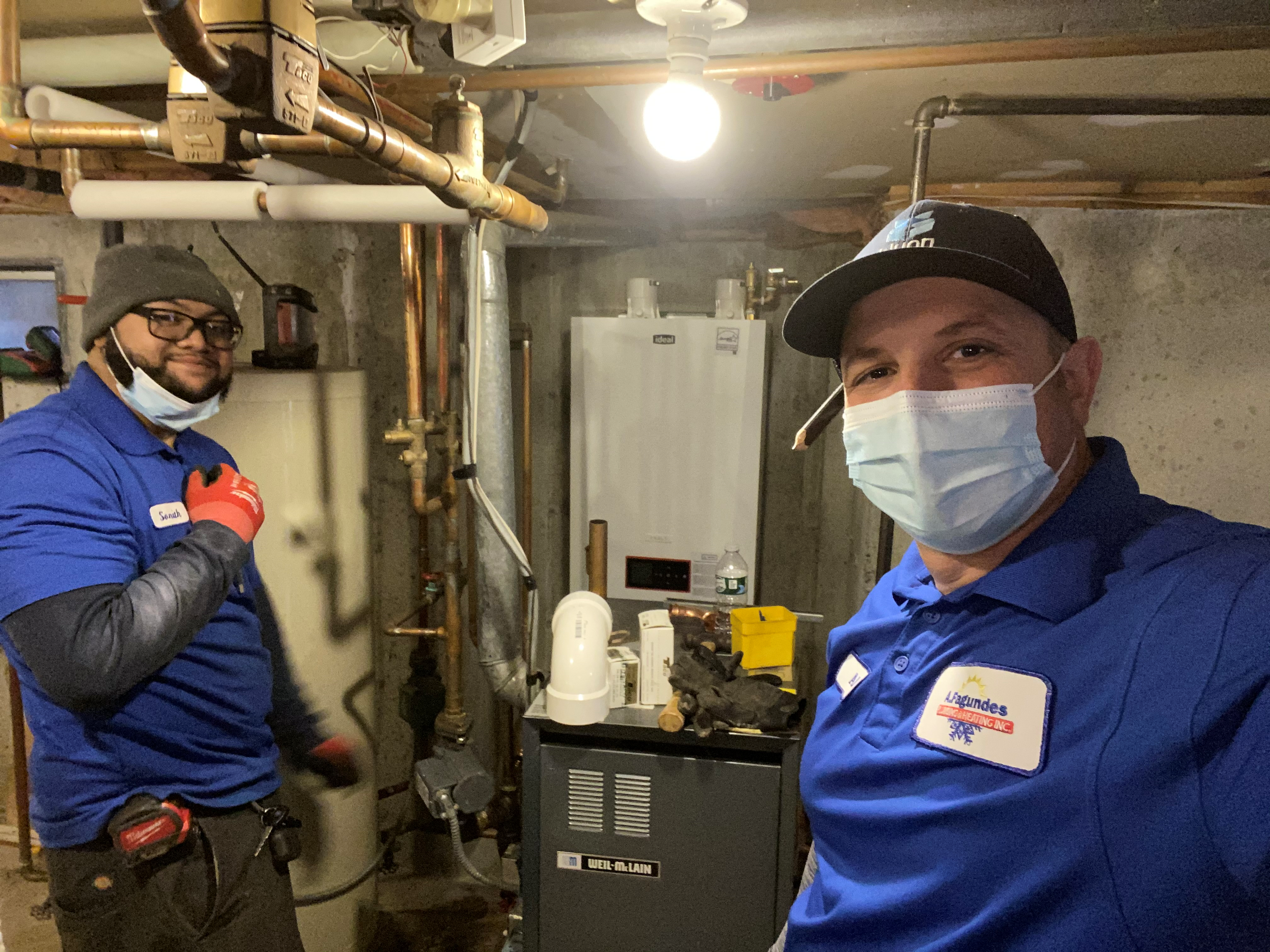 [Merrimack, NH, December, 2020] — The current heating system in Carol Bruce's home relies on "prayers and some talking to" to get it going (or keep it going) as Carol says. As the cold weather is upon us and fuel bills rise, as does the stress around her tired and ready to be put out to pasture heating system. Since the late 1980s, Carol has resided on Sandhill Drive, spending much of those years teaching 1st grade at the Peter Woodbury School in Bedford, NH. A common thread of each nomination Carol Bruce received was rooted in her willingness to use her incredible skills to educate others, but moreover, in her steadfast spirit of generosity and kindness in caring for all those close to her. After over three decades of being together, at the beginning of 2020, Carol lost the love of her life and her best friend, Sonny Bruce. He was a master electrician and a "master" at fixing and make-shifting all heating and plumbing household needs. Sonny took care of all the ins and outs of managing the house for their entire marriage but because his health had deteriorated over the past couple of years, these necessary household updates and repairs were neglected. Being able to provide these services for Carol in an area that is foreign to her is an "enormous gift and blessing" during a time where she is grieving and overwhelmed with managing the issues that come with a 30 plus-year-old house. Carol spends her time 3 days a week supporting her disabled son and daughter-in-law with childcare due to the hardships brought upon their family by his chronic disease and the pandemic. She also provides tutoring and babysitting to neighbors' children when they need it.
On December 9th, 2020, Carol Bruce will receive a brand-new heating system, restoring comfort and peace of mind to her Merrimack, NH, home. Carol's days will no longer be spent worrying about her boiler failing and staying warm or increasing costs of fuel bills. Instead, her time can be spent doing what she does best… caring for and teaching others.
A. Fagundes Plumbing & Heating Inc. will provide free plumbing and heating installation and labor of the boiler while Joe Mello Electric from Lowell will provide the electrical services needed for the project. The new boiler and system components will be donated by our partners at Ideal Boilers and F.W. Webb Company. The total combined project is valued at over $10,000 and is being gifted to the worthy recipient, Carol Bruce.
"We always wanted to give back to the community directly", Fagundes said. "There are a lot of charities to give to so it can be really hard to find the right one. Then I thought, what is a better way than to provide our services directly to someone in need, right?"
About Help-A-Neighbor Program
A. Fagundes Plumbing & Heating Inc. is dedicated to improving our neighbors' home comfort needs. Every year, through our Help-A-Neighbor Program, we provide a worthy homeowner with a free heating system, supplied by a local partner and installed by our NATE-certified technicians. You can help us find a deserving recipient.
Starting September 1st of each year, friends and family members can nominate homeowners residing in Merrimack Valley, Southern New Hampshire, and Northwest Massachusetts for a free heating system.
Together, we can help deserving neighbors in need.
About A. Fagundes Plumbing & Heating Inc.
A. Fagundes Plumbing & Heating Inc. has been offering top quality workmanship since 2003. We are a growing locally owned and family-operated company with our goals set on unequaled customer service and repeat customer satisfaction. We understand the significance of job referrals as the key to our business expansion. Our staff is trained to be efficient, precise, and respectful. We offer upfront pricing with no hidden surprises. We look forward to upholding our values and educating our customers.